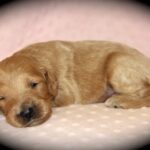 Available Standard F1B Goldendoodle English Cream/Goldendoodle: Sasha
We have a NEW LITTER!!  A Litter of F1B English Cream Goldendoodle!  For Those of you that have been waiting for the English cream goldendoodle ! Here they are! Just a little info English Cream Golden Retriever Breed that is used to make this Goldendoodle. There are also some other physical differences. These include blockier heads, bigger bones,( which makes them weigh more but not necessarily taller), and darker skin than other Goldens. The English Cream's eyes will be rounder and darker than a traditionally-colored dog. In terms of temperament, The English Cream might be somewhat more relaxed than the American Golden Retriever. At a training convention, I watched a women who trained Diabetic dogs, The English cream golden retriever was her 1st choice. Also 1st choice for another trainer for therapy dog was the English Cream Goldendoodle! So that being said if you want a Standard Gentle No Shed Dog  This is a great choice for all you looking for  F1B Standard Goldendoodle !! Super Sweet gentle deep in there Souls!  The coats to these puppies tend to get there curl and or wave slower due to grandfather English cream has very straight hair. Get your deposit down to be on a puppy of this new litter of Standard F1B English Cream Goldendoodles!  We take PayPal deposit of $500.  Deposits are non-refundable but are moveable in a case by case basis approval. Parent size: The dad is a Red poodle at 25-26 inches to shoulders, weighing  60-65 lbs. The mom is a English Cream  F1 Goldendoodle at 24 inches weighing 70-75 lbs.  Pups will  probably range from 60 to 70-75lbs  Males tend to be little bigger for most part. Understand  we can't guarantee sizes.
Reaching me through text or a phone call is the fastest and most efficient way to reach me. If I happen to miss your call, please send a text message with your name and the puppy you're interested in and I will contact you as soon as I can!
940-395-5441
Photogallery
---