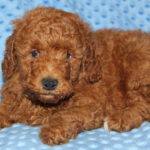 ADOPTED! Congratulations!
CLICK ON ME
Mini F1B Goldendoodle: Sean
We have a NEW LITTER! This litter of Mini Goldendoodles are F1B's, so they are no-shed ! This is a great choice for all you looking for a smaller Goldendoodle. Colors in this litter include Red/Apricot, Golden The parents and grandparents have the sweetest laid back, loving, playful temperaments. Puppies in this litter all have deposits on them.
Parent size: The Sire (dad) weighing 28lbs. The Dam (mom) is 24lbs. On the . On the dam's side of the family, the grandfather 4lbs and the grandmother was 45lbs (Golden retriever) Pups will range probably range from 20-28 30lbs.
Understand when you are bringing down a large dog to a smaller size, size can vary. So we cannot guarantee sizes. I do keep small grandparents in my mini to help keep the size down.
Reaching me through text or a phone call is the fastest and most efficient way to reach me. If I happen to miss your call, please send a text message with your name and the puppy you're interested in and I will contact you as soon as I can!
Connie, 940-395-5441
Photogallery
---