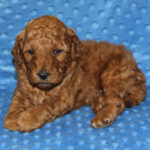 ADOPTED! Congratulations Ephriam Family!
CLICK ON ME
Mini F1B Goldendoodle: Kelby
To Customer Jacqueline Carrasco, & Non-customers,/ your family and friends you have gathered to speak lies about me and goldendoodleranch. Jacqueline Carrasco first of all again I'm sorry for your loss. Losing a pet is always hard. Your dog's mother's great grandmother is still healthy, alive, retired living in Dallas, Great grandmother in west Texas. Sires parents in Allen area. We home all our breeding dogs. So the rare disease you said your dog had was just that, Rare. I am still waiting for you to send your vet report, that I might be able to help you
* We are professional licensed, educated by the state & inspected by the state breeder. Goldendoodleranch has a great rating with BBB. We are held to great & high standards by state of Texas, with all our breeding and health of our breeding dogs. Texas is one of the hardest states to be licensed in. I have been breeding for 34 years. State Inspectors, veterinarians, employees are the only ones allowed in our kennel due to death causing diseases (Parvo, Distemper) that can be transferred by humans also it stresses the new nursing mommas. I did have you here in my home and have visual of our Kennel & high standards, I did not meet you on the side of the road or at a parking lot somewhere.
*When you reached out to me by text on July 20th I was in the mountains, near the Tetons, attending and helping with a church camp, we as a family love to attend and help with. The Phone service there in the camp has terrible reception, mostly none. The person I had mandating the phone was buying groceries Therefore, did not write anything down, i.e. your name and number, but did let you know I was in the mountains with bad reception and for YOU to call me at the end of the month when I would be home. Your comment via text was. "No that is too long. Let Connie know she will hearing from our attorney." You did not Call or text me at the end of the month, which was only 10 days. When I got home and I had no way of finding you, since you do not contact me again. Instead you get on Facebook and other places and started spreading Lies about Me, & goldendoodleranch. I am not a big social media person, mostly because of the fake news and lies, but I guess the way the people are in world today I need to start watching better, because I have always carried a A+ rating. You were given a 3 year genetic cause of death warranty. No one can or should cover non-genetic causes of death. The Warranty also states Cause of death signed by Veterinarian is a must. My Veterinarian, who is over our Kennel needs to see your Signed Vet Report to know Cause of Death. Asking for this is not unrealistic. This is a must for any contract/ Warranty of a living creature. To know the dog did not choke or have an accident or something non-genetic, like reaction to a vaccine.
To specify again I had no way of knowing who you were because you did not call me. Except to find the lies and slander you have put on Facebook. Then you had your friends do the same, who, by the way are not even customers, nor have they been here. So their accusations and testimonies are LIES. So we reached out to you via Facebook and, then you text you, and then me can't even wait until I get done with my customer/trainer before making worse remarks on Facebook, with more false accusations. I called you back as soon as my customers left. I went over ever thing with you, regarding what I needed from your vet.
All veterinarian keep records, including yours by law they have to. This should be very easy for you to get, and send to me. As of today I still have not received anything from you regarding your veterinarian records on your deceased dog. So I reached out to you by email. I still did not and have not as of today received a Veterinarian report to me. If you would like for me to warranty your dog I need the Veterinarian report for cause of death that it will show if it is a genetic cause of death. I have no idea what really happened to you dog until I have this.
If this slander continues, we will be forced to take legal action against you and your co-cooperators. They will have to prove that they were customers to warrant there posted testimonies.
Photogallery
---