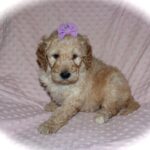 ADOPTED! Congratulations Knippers Family!
CLICK ON ME
Goldendoodle Standard F1B English Cream: Tilly
We have a NEW LITTER! This litter of Standard English Cream Goldendoodles are F1B's, so they are NO shed! This is a great choice for all you looking for a standard size hypoallergenic dog. An F1B Goldendoodle is a perfect choice. Colors in this litter include Apricot, Golden/Cream, Apricot/Red. English Cream retriever and doodles are known to make great diabetic & handicapped dogs.  This new litter of Standard F1B English Cream Goldendoodles has availability. Pick a puppy and make it yours with a deposit of $500. Text me for info on how to send a deposit. Deposits are non-refundable but are moveable in a case by case basis.
Parent size: The Sire (dad) weighing 60lbs. The Dam (mom) is 70 lbs. The parents and grandparents have the sweetest laid back, loving, playful temperaments.  On the dam's side of the family, the grandfather 90lbs and the grandmother was  68lbs. Sires side grandfather is 60 lbs grandmother 45 lbs. Pups will range probably range from 55-75 depending on the frame they inherit. It takes 3 to for years to reach this weight.
Reaching me through text or a phone call is the fastest and most efficient way to reach me. If I happen to miss your call, please send a text message with your name and the puppy you're interested in and I will contact you as soon as I can!
Connie, 940-395-5441
Photogallery
---