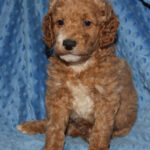 Clumberdoodle Mini F1B: Jace
We have a GORGEOUS NEW LITTER! A Litter of Mini F1B Clumberdoodles! You will find adorable babies in White/Cream with orange markings, Red/apricot with White Markings. This is a great choice for all of you looking for a rare Doodle! Clumberdoodles are probably the most Rare Doodle you will find. Kings and Queens loved Clumber Spaniels. Please read our Clumberdoodle page. These Mini F1B Clumberdoodles have wonderful laid back temperaments! Clumberdoodles have gentle child like soulful personalities, plus they have a touch of a comical attitudes which keeps families laughing. See our Clumberdoodle page for more information. Get your deposit down to be on a puppy list for this new litter of Mini F1B Clumberdoodles! We take PayPal deposits of $600 in order to get on our picking list to choose from these Mini F1B Clumberdoodles. Deposits are non-refundable but are moveable in a case by case basis for approval.
Parent size: The dad is a Moyen Poodle at 18 inches, weighing 28lbs. The mom is a F1 Clumberdoodle 16 inches weighing 25 lbs.  Pups will  probably range from 22-32lbs. Males can tend to be little bigger for the most part. Understand when you are bringing down a large dog sized can vary and we can't guarantee sizes.
Reaching me through text or a phone call is the fastest and most efficient way to reach me. If I happen to miss your call, please send a text message with your name and the puppy you're interested in and I will contact you as soon as I can!
940-395-5441
Photogallery
---