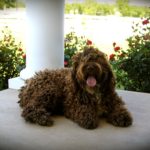 Clumberdoodle EXAMPLE
AVAILABLE !
Z-CLUMBERDOODLES Medium F1 : Cocoa momma
Cocoa is a grown Medium to Standard Clumberdoodle! She is not for sale! She is a mom!  I am posting Her photos so you can see how adorable they are grown as well as puppies!! She is a little Sun Faded in this photo. We have a NEW LITTER!! Litter of Small Standard CLUMBERDOODLES they are F1b so they are no shed!  This is a great choice for all you looking for a First Generation Clumberdoodle. These Clumberdoodles  have Amazing temperaments!  A F1b is a  Clumberdoodle bred  to a Poodle.They will still carry a lot of the Clumber Spaniel Attributes ! This people love! Clumber Spaniels have adorable Characteristics. Super Loving and attentive. I like to also say they are comical, they are the most comical dog ever. Funny and Loving makes them a good family member. My grandkids were raised with a clumberdoodle they are one of the most loving creature on earth with children! They run about 13 to 19 inches and 30- 45  lbs for female 30-55 for male.  Read our Clumberdoodle page and Get more information, even the history of the dog Kings and Queens loved and Adored , hard to find in America, Clumber Spaniel. That being said Owning a clumberdoodle is owning one of the rarest most Unique doodles in all the world. Deposits are non-refundable but moveable in case by case basis approval. Photos in add are from puppies in previous litter for ad in knowing looks of puppies at go home age and Adults.  Photos of individual clumberdoodles born are now posted! Pick yours and Place a deposit on it to make it yours!  Reaching me through text or a phone call is the fastest and most efficient way to reach me. If I happen to miss your call, please send a text message with your name and the puppy you're interested in and I will contact you as soon as I can!
940-395-5441
Photogallery
---