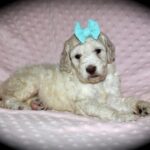 ADOPTED! Congratulations Magana Family!
CLICK ON ME !!
Clumberdoodle F1B Medium: Cream Puff
We have a NEW LITTER!!   A Litter of Medium F1B Clumberdoodles! You will find adorable babies in Chocolate and Cream from rare clumber spaniel .  No  Shed. This is a great choice for all you looking for a rare find Doodle Clumberdoodles have Wonderful laid back temperaments! Get your deposit down to be on a puppy of this new litter of  Medium F1B Clumberdoodles!  We take PayPal deposit of $600.  Deposits are non-refundable but are moveable in a case by case basis approval. Parent size: The dad is a Chocolate Poodle at 16-17 inches, weighing 30 lbs. The mom is a F1 Clumberdoodle 18 – 19  inches weighing 40 lbs.  Pups will  probably range from  30 to 40-45 lbs. Males tend to be little bigger for most part. Understand when you are bringing down a large dog sized can vary and we can't guarantee sizes.
Reaching me through TEXT or a phone call is the fastest and most efficient way to reach me. If I happen to miss your call, please send a text message with your name and the puppy you're interested in and I will contact you as soon as I can!
940-395-5441
Photogallery
---