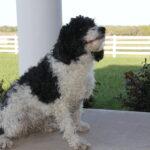 AVAILABLE !
CLICK ON ME !!
Available Portuguese Water Dog ADULT : Lizzy
We have a beautiful Medium Curly Black and White  Female Portuguese Water Dog available. No Shed. This is a great choice for all you looking for a adult Dog a little smaller than Standard. Lizzy  has a  Wonderful sweet loving temperament! She loves people and kids. She will follow you every where. She is also use to being with her friends she grew up with. She is not use to nor does she like being the Only dog.  Lizzy really needs to be homed with her friend Jasper as she desides to try to get out to go look for him. So you need to be willing to take two dogs. They get along great with each other. She also does will in a large crate with Jasper . She does not do well in Crate/kennel by herself. Homing both at the same time  will make her much happier and keep her safely home instead of on the hunt for her friends she grew up with . This will make it easier for the new master as well. Once you meet Jasper you will absolutely adore him. He is one of my favorites!!!  will post photos of him soon.   She  is 6 years  5 months old. She is AKC full blooded Portuguese Water Dog. I paid 3,500 for each of these plus a pick of a litter. Both are up to date on Rabies. $700 before spayed $900 after. Jasper $600 before neuter $800 after.
Reaching me through text or a phone call is the fastest and most efficient way to reach me. If I happen to miss your call, please send a text message with your name and the puppy you're interested in and I will contact you as soon as I can!
940-395-5441
Photogallery
---