Buying a Puppy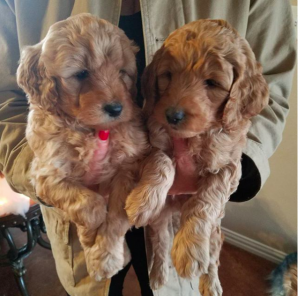 Buying a puppy with Goldendoodle Ranch is a relatively simple process. I've created a list to help you know what to expect… Please read list and all of website for any questions you may have. Then If I forgot to list one of your questions on the website, Please feel free to contact me via text, as this is the fastest way to get me, please leave a text call me instead of a voice mail if you call. If you don't text feel free to call me back. When I am with puppies they can be loud so I can't answer. We try to keep website updated daily, on availability, however there are times that we get busy :
Goldendoodleranch.com
Connie
940-395-5441.
Visit website Goldendoodleranch.com .
Choose the puppy you want on the website.
Reserve the dog of your choice by putting down the deposit through Paypal sent to you by text. Deposits are non-refundable but moveable. If a unexpected event happens on your side or ours your deposit is always there to use, just keep a copy of Paypal receipt.
When your puppy is 8 weeks old, generally, it is ready to go home, This is not guaranteed,as these are live living fur babies, not a Amazon purchase, and do not want to send them home if for some reason they are not ready, which as a customer you should appreciate. Also my life may have important event that we forgot to put on calendar or sickness or death in family. If for some reason you cannot pick up your puppy on my part or something happens in your life to change pick up, we will do everything we can to accommodate for the changes, but there is a limit as to what we can do.
When your puppy is ready to go home, you can pick it up!
If you live out-of-the-area, we can have a puppy nanny deliver your puppy to your nearest airport, for an additional fee, or I can meet you at DFW airport or Love Field with your puppy.This cannot be done on same day people are picking up puppies
When you pick up your puppy, you will sign a puppy contract.
You pay for your puppy via Pay-Pal or Cash. We are a business so there is tax of 6.25% added .
You will receive a 3 year Health Guarantee, which is part of contract.See Warranty Info. page.
Your puppy will receive a microchip. I do not register them. This is your responsibility as a new puppy owner!
Places you can register your puppy at Petkey.com, Homeagain.com, FreePetRegisttry.com. When you register and it ask what brand fill in with "I don't know" and it will go through with any registration company.
You will receive a Health Record with information about your puppies vaccination & worminig history.
You will receive a some education on good health care for your puppy.
You will receive a some Royal Canin food and sometimes we provide a coupon as well.
We generally send home a few toys that I know that puppies like.
It is best to bring a very cozy blanket with you to cradle your puppy on the way home.
Do not take your puppy to the pet store, or allow your puppy contact with other dogs until after it gets its full round of shots.
I know longer require you to rush your puppy to the vet within the first 3 day. My vet explained it to me this way. Your puppy is put under a lot of stress when it is sent to a new home, even if they don't act stressed, they are, relocating and leaving their old family and switching to a new one is stressful. Stress lowers the immune system. Then you are taking a stressed puppy straight to where all the sickness is at a veterinarian office, it is very likely to pick something up in this stressed state. So please feel free to keep your puppy at home for 10-15 days and let puppy get settled in before rushing to the vet. You can even keep puppy safe at home until next vaccines are due if you want. If for some reason you feel pup needs a vet in first 10 days return pup to me and I will take puppy to my vet and return puppy when well or will replace puppy, otherwise I cannot pay for any vet bill that you create on your own. Over the 32 years we have been breeding we have known some vet clinics to take great advantage of some of my customers and I don't want this for anyone nor can we pay for it.