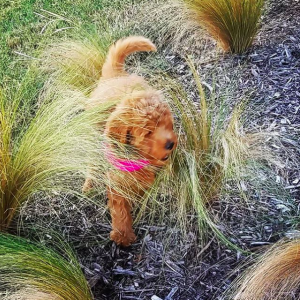 I am a Professional breeder and I have been breeding dogs off and on, since my husband and I married 32 years ago. We live on 86 acres In North Texas with lots of room. We have customers come from all over Texas and surrounding states.I have been breeding goldendoodles longer than anyone in Dallas area. When I started know one knew what they where! haha. When you take a look at goldendoodleranch, you may we do several sizes and some various colors. That is because I have been doing this the longest and I have my lines way back to create my colors and sizes.
We sell the top of the line mini and medium F1B goldendoodles. If you want a no-shed mini F1b or F2b goldendoodle, we have the best with all the lines to prove how we went from large to small. Retrievers are large. Why would you by a mini goldendoodle from a breeder/farm/ranch that doesnt breed any other size? You shouldn't because you don't know where that small size came from they didn't do the work to get the size. So they don't know their breeding lines to get to the small size. They simply bought 2 mini goldendoodles, and put them together to get theirs.
Here at Goldendoodleranch we create and bring down our own lines and hand pick the ones we feel that are the quality and temperament to breed down the size with so we can offer our customers the absolute best. That is why we have a abundance of Vet recommendations and customer recommendations! This is why we can offer a 3 year health guarantee with our puppies. We love all of our dogs and puppies so from our loving arms to yours!!